Legal Services
Free* Legal Assistance in Metropolitan Kansas City
*income restrictions do apply
Legal Aid of Western Missouri
Legal Aid of Western Missouri provides free civil legal assistance to people who need it most, but can't afford it. Their offices are located in downtown Kansas City, Joplin, St. Joseph, Warrensburg and a neighborhood office on Kansas City's west side. Phone: 816-474-6750
In addition to individual casework, they manage special projects designed to concentrate services in areas of particular need in the community. Read stories about actual clients from Legal Aid of Western Missouri.
Kansas Legal Services
Kansas Legal Services, a statewide non-profit corporation, is dedicated to helping low income Kansans meet their basic needs through the provision of essential legal and mediation services. They strive to eliminate the causes of poverty and mitigate its effects by helping individuals achieve and maintain self-sufficiency. KLS served more than 25,000 individuals in all 105 counties last year through two mediation offices, one employment training site and eleven legal services offices located across the state.
For more information, call toll-free at 1-800-723-6953 or fill out the online application
Legal Support for Discrimination Concerns
Legal Services for Tax Problems
UMKC Kansas City Tax Clinic
Assistance can include helping respond to IRS audits, establishing payment plans and other options. This is a project of the University of Missouri-Kansas City Graduate Tax Law Foundation and is staffed by UMKC tax law students under the supervision of experienced practitioners.
For More Information Contact: UMKC Kansas City Tax Clinic  (816) 235-6201
Low Income Taxpayer Clinic at Legal Aid of Western Missouri
The Low Income Tax Clinic (LITC) at Legal Aid of Western Missouri provides free legal representation by experienced tax attorneys for low income taxpayers in a 40 county service area. 
For More Information Contact: Legal Aid of Western Missouri (816) 474-6750.
Kansas Legal Services
Kansas Legal Services: The Low Income Taxpayer Clinic (LITC) at Kansas Legal Services provides assistance regarding tax controversies for low income taxpayers in the entire state of Kansas.  To qualify, contact Kansas Legal Services at 1-800-723-6953.
Legal Support for Immigration
Legal Aid of Western Missouri and Kansas Legal Services both offer immigration legal supportive services. More links and information listed above.
La Luz
Catholic Charities of Northeast Kansas 
2220 Central Avenue
Kansas City, KS 66102
913.621.1504
We provide affordable and pro bono legal counseling and representation for a wide-range of immigration matters.   We work with refugees and immigrants in need of representation for matters including:
Naturalization
Family-Based petitions
Adjustment of Status applications
Consideration for Childhood Arrivals (DACA)
Renewal/Replacement of Permanent Resident Card
Self-petitions for battered spouses and children
Applications for Temporary Protected Status (TPS)
U Visas
Fiancé Visa
Travel Documents
Remove Conditions on Residence
Referrals as appropriate
We also assist undocumented immigrants who have no legal options by making them aware of their legal rights. This information empowers them to avoid fraudulent and predatory offers of work permits for large amounts of money.
 Immigration Professionals
Immigration Professionals is a non-profit immigration law firm.  Immigration Professionals understand that immigration can be an intimidating, complicated, and difficult process. We stand by our clients all the way through the immigration process and help make the process as smooth as possible. For more information call 1-(844) 221-1844.

A wide range of support, including Legal Services, is also available availab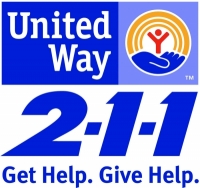 le through United Way 2-1-1
United Way 2-1-1 spans a 23-county area, including 7 counties in Kansas and 16 in Missouri, and has access to thousands of resources. The comprehensive database is constantly being updated so you'll have accurate information. Call 2-1-1 and you'll reach a trained, caring professional 7 days a week, 24 hours a day, 365 days a year. It's free and confidential.
United Way's 2-1-1 hotline is a great resource for everyday needs that aren't quite 9-1-1 emergencies.
Helfpul Links
Justice System General Review