Resources for Individuals with Disabilities
Offering ABLE Accounts to Missourians with disabilities
Tax-free savings plan for disability-related expenses
Save and invest without losing federal needs-based benefits
Giving those with disabilities the ability to save.
New Kansas ABLE Savings Plan helps individuals save, while preserving their SSI and Medicaid.
Banking Services for Individuals with Disabilities
Employment Resources for Individuals with Disabilities
Resources Employers Hiring Individuals with Disabilities
FDIC Money Smart – a comprehensive financial education curriculum designed to help low- and moderate-income individuals outside the financial mainstream enhance their financial skills and create positive banking relationships.
Publications
Covers Health, Disability, and Human Potential.
A national news organization serving the developmental disability community including autism, cerebral palsy, Down syndrome and intellectual disability, among others.
A one-stop accessible destination for disability related information, resources, services and products.
A magazine for active wheelchair users.
This website/magazine has quite a history, and has evolved through many name changes that show the changing times and technology: Avocado Press, the Disability Rag, the Electric Edge, and now the Ragged Edge!
United Way 2-1-1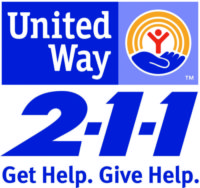 United Way's 2-1-1 hotline is a great resource for everyday needs that aren't quite 9-1-1 emergencies.
United Way 2-1-1 spans a 23-county area, including 7 counties in Kansas and 16 in Missouri, and has access to thousands of resources. The comprehensive database is constantly being updated so you'll have accurate information. Call 2-1-1 and you'll reach a trained, caring professional 7 days a week, 24 hours a day, 365 days a year. It's free and confidential.
United Way 2-1-1 Online Search Engine
For additional information about United Way's 2-1-1 services:
call (816) 474-5112 or toll free at (866) 320-5764.