What is a Credit Score
Good credit saves money; bad credit costs money. It can be difficult to pay cash for your car, home and college education and that's where credit can be helpful. It's important to have a plan to build and maintain a good credit history. Good credit saves money; bad credit costs money.
Your credit impacts the way you live. For instance, it can help you get a car with a low interest rate loan and even help you get a lower rate on your car insurance. But if your credit isn't good or you don't have a credit score, your credit can work against you and cost you money.
A credit report is like a report card of your financial history.
When you make a payment on a credit card or loan, those companies keep records of payments. They report your credit, loan and payment history to one or more credit reporting companies. The credit reporting companies combine the information into a single credit file. Three nationwide companies prepare credit files for people in the U.S.: Equifax, Experian, and TransUnion. Under Federal law, you are entitled to receive one free copy of your credit report from each credit reporting company every 12 months. (Information from annualcreditreport.com).
Credit reports may include: a list of companies that have given you credit or loans, the total amount for each loan or credit limit for each credit card, how often you paid your credit or loans on time, and the amount you paid, companies that have asked to see your credit report within a certain time period, your address(es) and/or employers, and other details of public record.
For more information visit www.consumerfinance.gov/askcfpb/309/what-is-a-credit-report.html.
A credit score is a number that is used to predict how likely you are to pay back a loan on time.
Your credit score starts with the information about you from your credit report. A mathematical formula – called a scoring model – is then used to create your credit score.
Credit scores are used by companies to make decisions such as whether to approve a mortgage at a certain rate or issue a credit card. Different lenders use different scoring formulas, so your score can vary from lender to lender. Usually a higher score makes it easier to qualify for a loan and may result in a better interest rate. Most scores range from 300-850.
Under Federal law, you are entitled to receive one free copy of your credit report from each credit reporting company (Equifax, Experian, and TransUnion) every 12 months.While you can receive your credit report for free from the three agencies, the score will cost you a small fee. The score is a number that is helpful to know if you are ready to take out credit such as to buy a house or car.
FICO scores are shown below, but there are many other scores out there as well. Here is a full listing from the Consumer Financial Protection Bureau (CFPB) of all the reporting agencies.
What Your FICO® Score Means To Lenders
579 or less
Lenders view you
as a very risky
borrower
580 or 669
Some lenders will
approve loans
with this score
670 or 739
Most lenders
consider this a
good score
740 or 799
Lenders view you
as a very
dependable
borrower
800 +
Lenders view you
as an exceptional
borrower
How Credit Scores are Calculated
35% – your payment history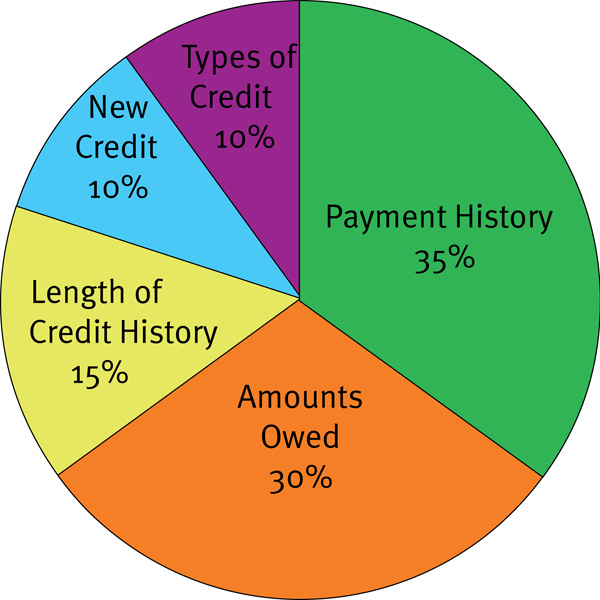 Tip: Pay bills on time
30% – the amounts owed
Tip: Only utilize 25% of your credit limit
15% – length of credit history
Tip: Keep old cards, but use infrequently
10% – new credit
Tip: Don't apply for multiple credit cards
10% – types of credit
Tip: Have a diverse credit history
How to Review Your Report
Make sure that you recognize the accounts, loans, addresses and other information on your credit report. Then check that the information on your credit report is correct. If you find information that you believe is not correct, contact the company that issued the account or the credit reporting company that issued the report. For more information visit the Consumer Finance website for common credit report errors. Consumer Finance also has information about how to spot identity theft.
Where and When to Get Your Credit Reports
Where:
www.annualcreditreport.com is where you can access your credit report from all three agencies every 12 months for free. Sometimes your credit card company or other services might offer a credit score, but this is the only place to get all three credit agency reports for free: Transunion, Equifax and Experian. If you'd like the score, there is a small fee.
You may also access your credit reports by mail or phone. To ask for your report by phone:
• Call 1-877-322-8228
• You will go through a simple verification process over the phone.
To ask for your report by mail:
• Download the request form (You need an Adobe viewer to view the requested form)
• Print and complete the form
Mail the completed form to:
Annual Credit Report Request Service
P.O. Box 105281
Atlanta, GA 30348-5281
When:
A smart idea is to pull one report in January, one in May and one in September: that way you are seeing your report throughout the year and can detect any mistakes or identity theft more frequently. Make sure to either save to your computer files, or print it out for reference. If there are any errors, there will be an opportunity to dispute on the site.