Money Smart Day 2019
Don't miss Money Smart Day on Saturday, April 13th at the Downtown KC Library.
Attend informative sessions, talk with a financial advisor, and get your credit report free at this event.
More details and titles of sessions soon.
Health & Wellne$$
Stretch Your Dollar, Not Your Waistline
Money Smart KC is partnering with Samuel U. Rodgers Health Center for a Health/Financial Fitness Fair
Date: Thursday, March 28th 
Time: 10am-3pm
Place: Samuel U. Rodgers Health Center
825 Euclid Ave, KCMO 64124  
Click HERE for a printable flyer.
Find out how to whip your finances and health into better shape! Join us for a dozen fun, interactive sessions about nutrition, exercise, money management, health issues and much more.  Free blood pressure and cholesterol checks, snacks, resources for all ages, and raffles for prizes* will also available. Please register below for this free Quarterly Connect event. One raffle for everyone who registers online. Enter into more raffles to win gift cards and fitness trackers at the event. Need not be present to win. Must be 18 years or older.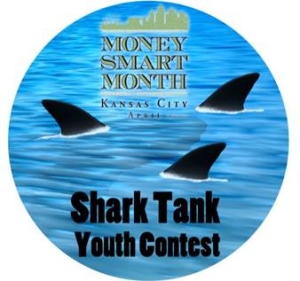 Shark Tank Youth Competition 2019
The Power of You: High School Youth Conference/Competition
Date: Thursday, April 4th
Time: 8am-3pm (top 5 teams will present to entire conference)
Place: Federal Reserve Bank of Kansas City, 1 Memorial Drive, KCMO 64198
Who can register? High school students (4 students per team) Limit of 20 teams total
Do your students have what it takes to solve a problem with an innovative solution?  In the Shark Tank Youth Contest, teams will receive a problem on the day of the competition and will create a service or product to solve that problem. Each team will create a business plan and present to the judges.  Teams that do not progress to the finals will be able to join the conference activities at 1:30pm. The competition is limited to two teams per school, unless there is space available after the registration deadline.
Bring a team of high school students to the 5th annual Money Smart KC Shark Tank Competition!
The competition is limited to two teams per school, unless there is space available after the registration deadline (3/1/2019)
Laptops will be available for every team – cell phones are allowed during the competition
Competition is limited to the first 20 teams registered – judges will pick the top 5 teams to present at the conference
Lunch and snacks provided for all team members
Prizes and trophies for 1st and 2nd place winners ($1000 for 1st team and $500 for 2

nd 

place team)
Competition led by UMKC Office of Financial Literacy 
Contest sponsored by Central Bank of Kansas City
Registration deadline: March 1, 2019