Money Smart KC Signature Events
Money Smart Day
Don't miss Money Smart Day on Saturday, April 7th at the Downtown KC Library.
Attend informative sessions, talk with a financial advisor, and get your credit report free at this event.
More details and titles of sessions here.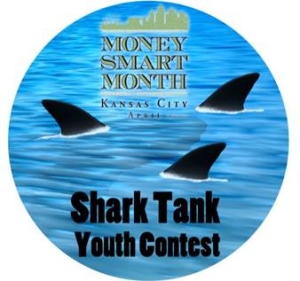 Shark Tank Youth Contest 2018
Shark Tank Youth Contest….Money Smart Style      
Do you have what it takes to solve a problem with an innovative solution?
In the Shark Tank Youth Contest, you will create a business plan and present to the local sharks all on May 8th.
Date: Tuesday, May 8th
Time: 8am-11:30am (top 5-8 teams will stay a little longer to present)
Place: Federal Reserve Bank of Kansas City, 1 Memorial Drive, KCMO 64198
Bring a team of 3-4 high school students to the 4th annual Money Smart KC Shark Tank!
How can your team develop a product or service that will not only solve the problem but change the way things are done?  This will be your challenge…come up with a business plan that the Sharks will want to take a bite of!! Your team will have time onsite to create a business plan around a scenario that will be revealed that day.
Laptops will be available for every team. Cell phones are allowed during the competition.
Competition is limited to the first 20 teams registered. Judges will pick top 5-8 teams to present their idea at the MSKC luncheon.
Lunch provided for all team members.
$Prizes and trophies for 1st and 2nd place winners
Competition led by UMKC Office of Financial Literacy 
Contest sponsored by Central Bank of Kansas City.
Registration deadline: April 16th 
Register below.