Find Emergency Services
TALK TO SOMEONE 24 Hours A Day – United Way 2-1-1
Need to find counseling? A health clinic? A food pantry? Emergency Help?
United Way's 2-1-1 hotline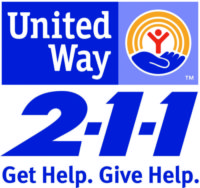 is a great resource for everyday needs that aren't quite 9-1-1 emergencies.
United Way 2-1-1 spans a 23-county area, including 7 counties in Kansas and 16 in Missouri, and has access to thousands of resources. The comprehensive database is constantly being updated so you'll have accurate information. Call 2-1-1 and you'll reach a trained, caring professional 7 days a week, 24 hours a day, 365 days a year. It's free and confidential.
Simply dial 2-1-1, or visit United Way 2-1-1 Online to search for resources on your own or call (816) 474-5112 or toll free 866-320-5764
Home Safety
Make an escape plan and have regular Fire Drills. Preparing for an Emergency It is important that your family has a plan that all family members understand. You may need help getting out of the house, and you may not know how to escape or what to do unless your mom or dad shows you.
Have a plan for young children who cannot get outside by themselves. Your parents will need to wake babies and very young children and help them get out. Planning for that will help each child get out safely.
Know two ways out of every room – important in case one exit is blocked or dangerous to use.
Choose a meeting place outside the home. You and your brothers and sisters should know what to do when they hear a smoke alarm and there is no adult around. Practice going to an outside meeting place. No one should ever goes back inside a building that is on fire, even to save a pet. Make sure someone dials 911 once you are at your meeting place.
Learn More: U.S. Fire Administration
Safe and Well From American Red Cross
After a disaster, letting your family and friends know that you are safe and well can bring your loved ones great peace of mind. This website is designed to help make that communication easier.
American Red Cross Safe and Well Resource
Register Yourself as "Safe and Well"
Once on the site click on the "List Myself as Safe and Well" button to register yourself on the site.
Search for Loved Ones
Concerned family and friends can search the list of those who have registered themselves as "safe and well" by clicking on the "Search Registrants" button. The results of a successful search will display a loved one's first name, last name and a brief message.
9-1-1 System – Call 911 to request service from fire, police, or emergency medical services:
Any crime in progress or where the offender is still on the scene (or has just left the scene)
All serious violent crimes—homicide, robbery, sexual assault, domestic violence, assault—even if the crime is no longer in progress or the offender has left the scene
All fires and medical emergencies
Home and business intruders
Vehicle crashes involving personal injury, major property damage, or traffic tie-ups
Sighting of a criminal whom you know is wanted by the police
Disaster Preparedness and Recovery Resources from the Federal Reserve Bank of Kansas City
Take the first steps in preparing for a disaster by completing your personal or small business financial form. Check out these disaster preparedness and recovery financial forms, checklists and resources.
More Helpful Disaster Preparing Links:
Checklist For You and Your Family – Use this checklist to identify what financial information you need to have in place before a disaster strikes.
Checklist for Small Businesses – Use this checklist to identify what financial information you need to have in place for your small business before a disaster strikes.
Consumer Resources – View local and national resources that can assist you and your family in the event of a disaster.
Small Business Resources – Collection of resources to make sure your business is prepared before and after a disaster or emergency.
Community Resources – Resources that help support the needs of a community before and after a disaster.
(En Español -Visite kansascityfed.org/planprepareprevail para encontrar recursos adicionales que lo ayudarán a prepararse para un desastre).
My Resource Connection (9 County Metropolitan Region)
My Resource Connection connects individuals needing assistance with local resources that can help meet their needs: groceries, clothing, housing, health care, counseling, transportation, employment, emotional support, etc.
Online Link: My Resource Connection Search for resources by zip code and/or county.