Online/Mobile Finances
Online Banking refers to banking services where depositors can manage their accounts over the Internet, rather than visiting a branch or using the telephone. Online banking typically utilizes a secure connection to banking information through a home computer or another device. Many financial institutions offer FREE online banking to their customers.
Mobile Banking is a service provided by a financial institution that allows customers to conduct financial transactions with a mobile device such as a mobile phone or tablet through an app. It allows people to manage finances from anywhere, anytime. Mobile Banking benefits are similar to Online Banking.
(Most financial institutions require mobile banking customers to have online banking services. Check with your financial institution for details).
Why bank online?
It's convenient, available anywhere
It's available anytime, 24/7
It eliminates numerous bank visits
It provides a real-time view of accounts and transactions
Tip: Set up low balance alerts to avoid fees
Why use online bill pay?
It saves time and sometimes money through electronic payment
It reduces use of stamps and checks
It allows one-time or recurring payment options
It enables payment scheduling to avoid late charges
It's fast and easy
Tip: Set up alerts to remind you when a bill is due
Why request e-statements/e-bills instead of paper?
It helps prevent lost or stolen statements and information
It reduces paper clutter
It is accessible from anywhere
How to Ensure Safety When Managing Finances Online
Make sure you see the padlock and https: before you bank or pay bills online  
Password protect your Wi-Fi so it's more difficult for your web sessions to be hijacked.
Create unique passwords with upper case and lower case letters, as well as numbers and symbols.
Only use trusted sources or links by going directly to the source instead  of referrals through social media or emails.
Avoid sharing confidential information (passwords, PIN numbers) through unsolicited emails or phone calls.
Keep browsers and software up-to-date to help prevent cyber attacks.
Install a security solution on your devices with antivirus software for more protection and privacy.
Limit access to your computer to those you trust or set up multi-user accounts with separate passwords.
Don't use public Wi-Fi hotspots when conducting financially sensitive transactions and be wary of 'shoulder surfers' viewing your screen from behind.
Log out when you finish financial transactions to reduce chances of the session being hijacked.
Set up notifications (text or email) to alert you to suspicious activity on your account.
Visit www.onguardonline.gov for more information
Personal Finance Apps
Personal finance apps can help Android and iPhone users manage their money. There are apps to help you save, invest, budget and more. New apps become available frequently — check out the 25 apps in the Top Personal Finance Apps 2018 list from a Money Smart KC Partner.
Finance Apps Tips:
Download apps from your favorite stores to get coupons and other special deals.
Always check out features, costs and reviews of other users so you can make an informed decision before downloading an app.
Other Great Apps: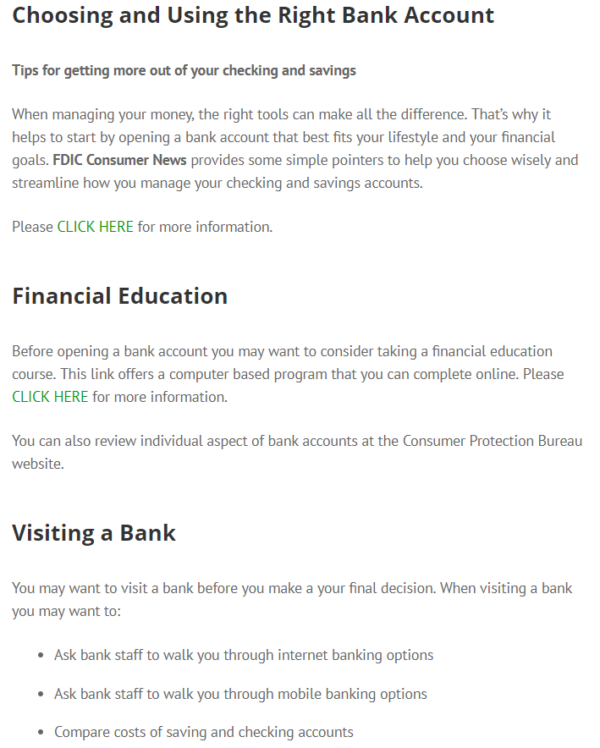 Visit the following Money Smart Topics for helpful information and links.
Kim Heydt-Wylie
2018-10-04T10:55:50-05:00
When managing your money, the right tools can make all the difference. Learn the basics of banking and be on your way to reach your financial goals.
Videos Online/Mobile Banking