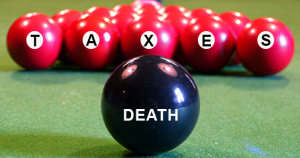 You know the saying,
"There are two certainties in life: death and taxes."
We can help you prepare for both.
Join Seck & Associates for a
FREE, Educational Estate Planning Presentation
Tuesday, March 3, 2020
4:00 – 5:30 P.M.
You will learn the basic WHO, WHAT, WHY and HOW of estate planning;
How do I avoid probate and protect my heirs from a court making my decisions about my assets?
Who makes decisions if I or my spouse become incapacitated?
Why do I need a will or trust?
How do my healthcare providers know my wishes?
How do I protect my children's inheritance from creditors, lawsuits, and divorce?
How can my family minimize taxes through estate planning strategies?
and much more…
Seck & Associates is offering this FREE, no-obligation, educational presentation to explain how an estate plan provides protection for you and your loved ones.
TO RSVP: 
Click the "Register" button or
CALL (913) 815-8484 to reserve your seat today!
SEATS ARE LIMITED
If you are unable to join us but would like to speak with an experienced estate planning attorney, contact us at 913.815.8484 to schedule your complimentary consultation.